2020 World Slasher Cup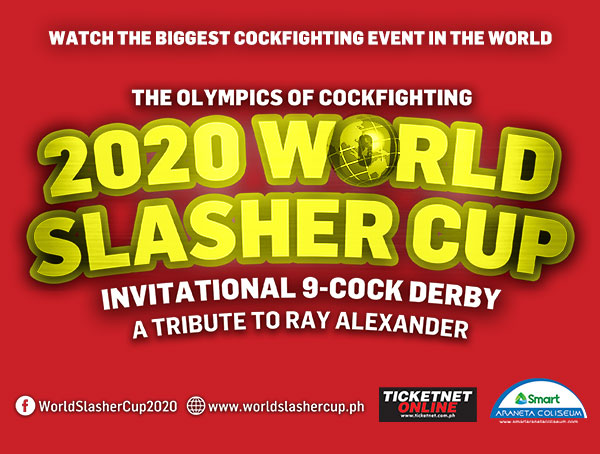 World Slasher Cup 2020: A tribute to legendary breeder Ray Alexander

The world's most prestigious cockfighting derby and known to many as the Olympics of Sabong, the World Slasher Cup, unfolds in January 2020 as a tribute to legendary American breeder, Ray Alexander.
The much-awaited 9-cock invitational international derby kicks off on January 20, 2020 at the historic Smart Araneta Coliseum at the newly rebranded Araneta City in QC. The invitational derby, which will have its Grand Finals on January 26, 2020, promises to showcase exciting legitimate match-ups of only the best fowl fighters and cockers to ever grace the WSC rueda.
Expecting to draw hundreds of entries from here and around the world, the WSC 2020 will be a chance for sabong enthusiasts to pit their birds against WSC 2 2019 champions Thunderbird 1 (Nene Araneta, Frank Berin) and RC Warriors JD (Rey Cañedo and Jun Durano), who are expected to return to defend their titles.
Fans and fighters are also hoping WSC 1 2019 solo champs Cris Copas of Kentucky, USA and partner Claude Bautista of CPB Group of Mindanao would return to give others a shot at earning their title.
Other WSC veterans and former champs are also expected to join the frey for the pot money, imported trophy, and the championship title like seven-time WSC champ Patrick "Idol" Antonio, the Escolin brothers, media man Rey Briones, Magno Lim and Gerry Tesorero, and so many more.
The WSC 2020 pays tribute to legendary gamefowl breeder Rey Alexander, who passed away in July 2019 at the age of 82. Alexander was one of the people at the forefront of setting up the World Slasher Cup in the early '70s, and had convinced American fighters and breeders to come to the Philippines and join the competition.
Known to its numerous followers as the Olympics of Sabong, the World Slasher Cup is a smackdown of only the best breeds and bloodlines of winged warriors meticulously cared for in fowl farms here and abroad.
Those who are interested to join WSC 2020 from January 20-26, 2020 may now register their entries via the www.worldslashercup.ph. They may also call the WSC Derby Office at (8)588-8227 or (8)911-2928.
For more info and updates, WSC enthusiasts may follow us on our new Facebook page (@worldslashercup2020); visit the website www.worldslashercup.ph ; or email worldslashercupofficial@gmail.com and be part of our emailing list.